As with most companies, our energy and mutual connection have been under strain this past year. That is why we have made 'energy and connection' our annual theme for 2022.
However, 2021 was not just another year of lockdowns and home offices. It was also a year that witnessed the sustainable growth of our people, our relationships, our business and the world we operate in. We have mapped the road ahead and the road behind in a brand new annual report, packed with insights and highlights:
🌱 275 colleagues attended a course, workshop or training programme
🌱 We reduced or otherwise compensated our CO2 emissions
🌱 We are now a climate-neutral business
🌱 We no longer drive diesel-fuelled cars and 50% of our company cars are electric
🌱 We ran several pilots, creating more recyclable packaging with less plastic
🌱 We ran multiple pilots for reducing the impact of plant protection products on the environment
🌱 We achieved positive revenue growth with nearly all our retail partners
🌱 We sold 372,500 additional organically grown products compared to 2019
🌱 The purchase value at our top 100 growers grew to 77%
🌱 We calculated 50 of our growers' carbon footprint, a valuable step towards meaningful change
And we are just getting started. In eight years' time, we want our operations to be completely circular and to sell twice as many plants as we did in 2020. The plants we sell will be positive plants: contributing to a healthy planet and a better life for all. This is our dream for 2030.
Despite demanding short-term challenges, we remain focused on our long-term strategy: meeting the rapidly shifting demands of European consumers and our retail partners. Our annual report describes how we aim to achieve our dream for 2030 and the progress we made last year.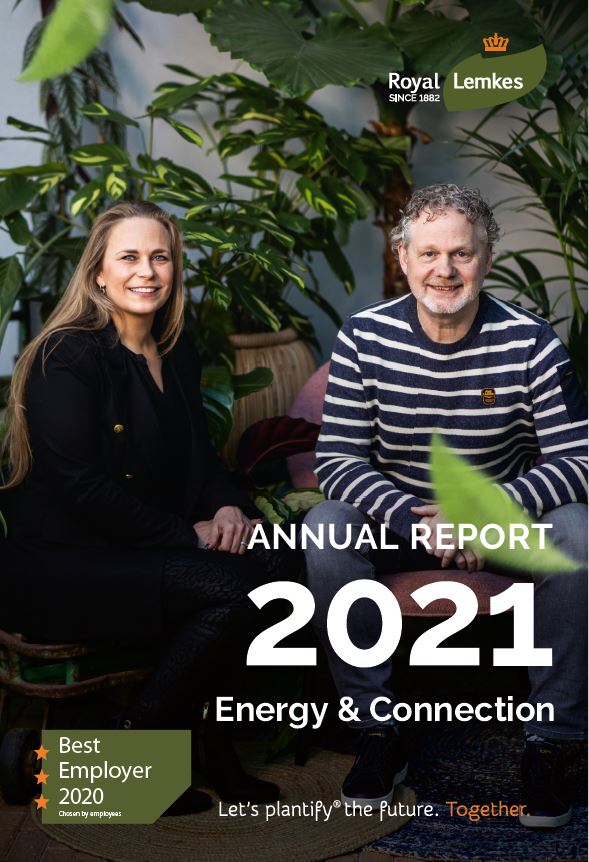 Read our annual report here: https://onlinetouch.nl/royallemkes/annual-report-2021
Enjoy reading!