Floramedia, Dümmen Orange and Royal Lemkes launch Green Trend Report 2020/2021
Special collaboration between three international leaders of the ornamental horticulture sector results in a unique book
Bleiswijk (the Netherlands), November 2, 2019 | Floramedia, the communications firm for the green industry, Dümmen Orange, the world's largest breeder and propagator and Royal Lemkes, plant service partner for leading retailers in Europe, jointly launched the Green Trend Report 2020-2021 on November 28. This second edition is the unique result of a special relationship in which the three companies are combining their research, expertise and creativity to inspire to think outside the box and work/collaborate in new ways.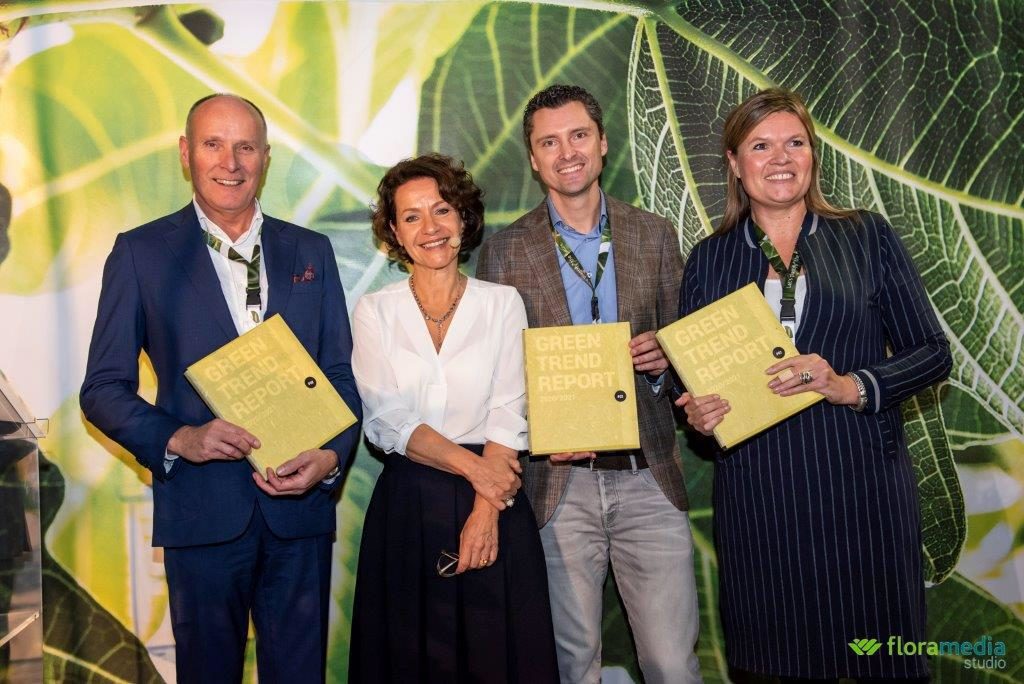 Our green world is developing at a faster and faster pace. This is also true of our daily lives, from lifestyle changes to the sometimes turbulent events that affect us all. The challenges and opportunities of the years to come are forcing us to make different, carefully considered choices. The availability and quality of flowers and plants alone is no longer enough to make a difference in a competitive consumer market.
Floramedia, Dümmen Orange and Royal Lemkes have entered into a partnership and have decided to jointly produce and launch the Green Trend Report (GTR) 2020-2021. The GTR 2020-2021 shows how "new" forms of collaboration can boost the three companies' unique qualities, resulting in new insights and opportunities.
We would like to inform our target groups about important social developments and market data, and their effect on our society, industry and products, and to share our vision on this with the world around us. The GTR 2020-2021 shows our customers and stakeholders our thoughts and ideas about what the world could look like in the (near) future and how they can respond to it. It also offers a wealth of information that could change the way we think and work together, help businesses develop new, creative ideas and innovative concepts for the short, medium and long term, and help them reach new target audiences.
Ekko Vermeulen, Director Benelux at Floramedia, sees this new collaboration as a great opportunity: "As one of the initiators of the Green Trend Report, we are delighted to have been given the opportunity to participate in this unique collaboration, which allows us to share our knowledge, expertise and creativity with the whole sector. We hope that the Green Trend Report will inspire everyone to think differently and outside the box, and that it will give rise to more partnerships that will ensure our wonderful green sector continues to flourish going forward."
Marco van der Sar, Global Head Marketing & Corporate Communications at Dümmen Orange, is very pleased with this collaboration: "Working together to produce a document like the Green Trend Report generates a lot of positive energy and gives us the opportunity to present the benefits of our product groups in a stylish way. As breeders of a luxury product like flowers, plants and bulbs, it is important for us to be able to inspire people and to ultimately make the world's consumers aware of the value of our products! The excellent contents of this book will help us and our customers and retailers think about new ways of marketing our products."
Alice van Veen, Commercial Manager at Royal Lemkes, says: "We believe in growing together with our cluster and horticultural chain partners. This new way of working together is a great example of how this can be done and offers our customers, breeders and indeed the entire sector a whole host of as yet undiscovered opportunities that combine social and commercial relevance."
During the official launch, which was attended by the press and invited guests from the sector, art director Judith Klute (Floramedia) handed over the first copies to two of the initiators, Ekko Vermeulen and Alice van Veen. Dümmen Orange's Harry Kloppenburg accepted a copy on behalf of the third initiator, Marco van der Sar, who was unable to attend.
The Green Trend Report 2020-2021 is available for purchase via the Floramedia webshop: https://webshop.floramedia.com/nl/