Green Trend Report 2022-2023: available now
On 8 March 2022, three international leaders of the horticultural industry launched the Green Trend Report 2022-2023, a stylish book of inspiration filled with current and future trends pertinent to the sector. In this third edition, elho group, Floramedia and Royal Lemkes uncover the strategic opportunities these developments offer the horticultural community.
Rethinking the future
The Green Trend Report is more relevant than ever. How do we re-establish our connection with nature while adapting to a rapidly changing world? That is the essential question elho group, Floramedia and Royal Lemkes set out to answer by combining their unique expertise and creativity. Rethinking the future is the green thread sewn through the trends, ideas and innovations described in the report. The three partners hope to awaken nothing short of a green revolution by inspiring everyone in the horticultural industry to think, work and grow in a new and sustainable way.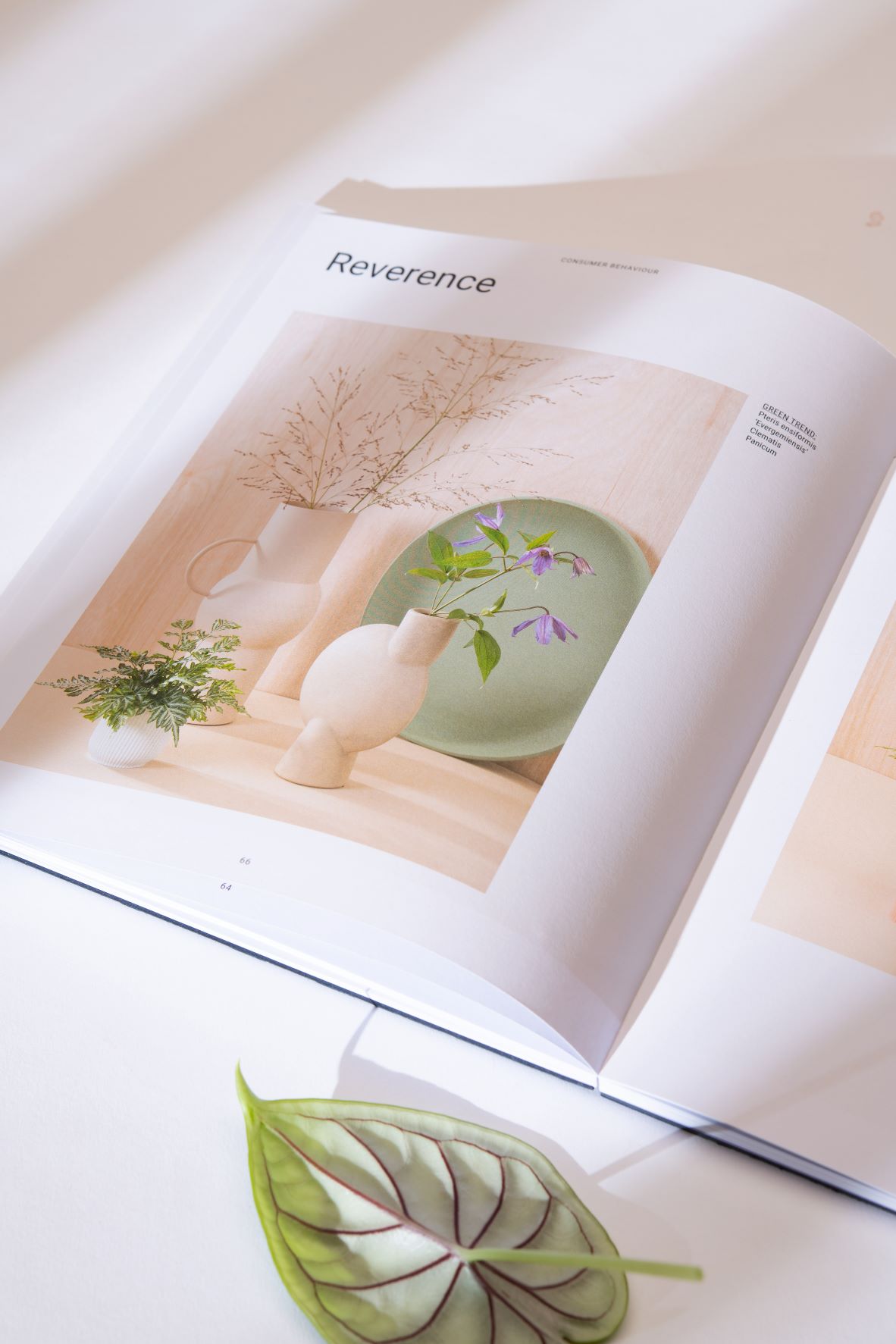 Melanie Meskers, chief commercial officer at elho group, is proud of her company's debut partnership in producing the Green Trend Report: "Through collaborative research, we explored how an intensified relationship with nature can help society grow. An approach that fits seamlessly with our own mission to bring nature into people's homes, especially important given the great changes we are witnessing due to new technologies and increasing urbanisation. At elho group, we believe connecting with nature results in a joyful, happy life and the Green Trend Report confirms this. Positive, impactful change comes from combining a love of nature with modern technology and creative skills."
Ekko Vermeulen, Benelux director at Floramedia: "Our role as a communication partner for the horticultural industry means that we support customers across Europe. We help them to maximise product presentation using new strategies, creative concepts and modern communication. Telling a coherent story is becoming increasingly important and the better you understand the trends and developments, the more effectively you can respond to evolving needs and demands. That is why we have worked together with industry partners to create the Green Trend Report, presenting the most relevant insights into current and future trends."
Alice van Veen, director of sourcing, sustainability and marketing at Royal Lemkes: "We are once again delighted with the result of this valuable industry-wide collaboration. Through the Green Trend Report, we demonstrate our responsibility as a plant service partner for nurturing a more sustainable sector. We will continue to explore how we can offer our customers, Europe's leading retailers, the most conscientious service available. But instead of competing, we need to collaborate if we are to seize new opportunities. This report clearly shows how, by working together, we can help each other find the green within ourselves."